 
PETRIFIED WOOD WASHBASIN GOLD
Natural Stone Washbasin from fossilized wood. Incredible interior black lavamanos and with exterior color cracked stone. One of our favorites.
Real image.
Height 15 cm x Width 46 cm x Depth 43 cm

EXCLUSIVE PIECES
ARTISAN PRODUCTS
REAL PHOTOGRAPHS

PERSONALIZED ATTENTION
Product Details
Data sheet
Weight in kilos

23

Persons needed to transport

2 people

Delivery

Street delivery

Materials

Petrified wood

Width

46

Depth

43

Height

15
---
Description
A petrified wood washbasin in black is a real gem for any bathroom. This unique piece has been created from a fossilised log, which has been carved and polished to create an elegant and functional shape. The inside of the basin has been professionally polished to achieve a smooth, glossy finish that highlights the wonderful grain of the petrified wood. On the outside, much of the log has been kept in its natural colour, a beautiful beige tone that adds a natural, organic texture. However, a piece has been polished to create a smooth, black surface that contrasts beautifully with the rest of the basin.
Petrified wood is a precious stone that forms when wood is buried for millions of years, and minerals permeate it, creating a hard, tough substance. This fossilised wood has a unique beauty and appeal, making it an ideal material for creating luxury washbasins.
To maintain this type of washbasin, it is important to avoid using harsh chemicals, which can damage the surface of the petrified wood. Instead, it is recommended to use mild soap and water to clean the washbasin regularly, and to dry it thoroughly after use to avoid water stains.
In terms of decoration, a black petrified wood washbasin is a piece that speaks for itself. This type of washbasin is perfect for those looking for an elegant and sophisticated style, with a natural and organic touch. It combines well with a variety of decorating styles, from minimalism to rustic or natural, and adds a touch of luxury and exclusivity to any bathroom.
You might also like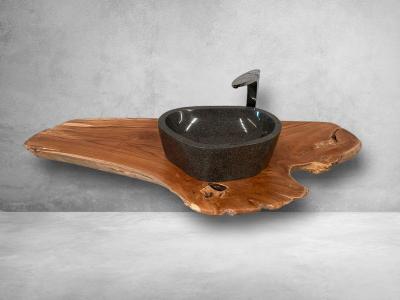 Height:
7 cm
Width:
147 cm
Depth:
64-37 cm
ON REQUEST
Height:
12 cm
Width:
75 cm
Depth:
40 cm
Height:
10 cm
Width:
71 cm
Depth:
41 cm
keyboard_arrow_up