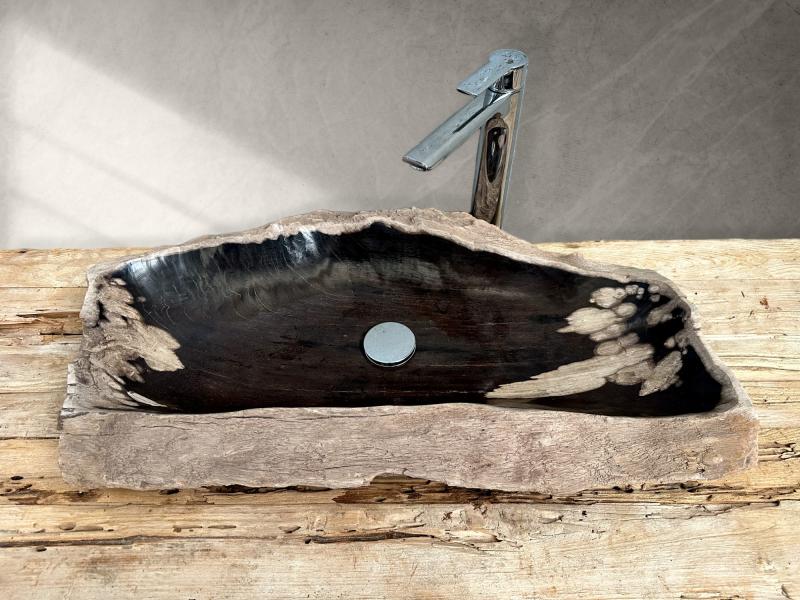  
FOSSILIZED WOODEN WASHBASIN TOULOUSE
Spectacular Black Petrified Wood Washbasin with a glossy polished interior and the natural exterior of the fossilised trunk in a sandy colour.
Petrified wood is a type of rock naturally formed from wood that has been buried underground for millions of years.
Universal size hole.
Actual image.
Height 10 cm x Width 71 cm x Depth 41 cm

EXCLUSIVE PIECES
ARTISAN PRODUCTS
REAL PHOTOGRAPHS

PERSONALIZED ATTENTION
Product Details
Data sheet
Weight in kilos

30

Persons needed to transport

2 people

Delivery

Street delivery

Materials

Petrified wood

Width

71

Depth

41

Height

10
---
Description
Washbasin made from petrified wood.
Petrified wood is a type of natural rock that is formed from wood that has been buried underground for millions of years. The result is an exclusive, stunning and naturally beautiful piece. It is a unique and rare piece that is used in the manufacture of jewellery, decorative objects and high-end furniture.
The contrast between the shiny polish of the inside of the basin and the natural look of the outside of the fossilised trunk creates an impressive and unique visual effect. In addition, the combination of black and sand adds elegance and sobriety to the design.
In terms of maintenance, petrified wood washbasins are strong and durable, but it is important to follow certain precautions to avoid damaging the surface. It is recommended to clean the washbasin regularly with a soft cloth and warm water, avoiding aggressive or abrasive chemical products. 
In terms of decoration, the petrified wood washbasin can be combined with different natural elements, such as plants and stones, to create a rustic and cosy atmosphere in the bathroom. You can also play with lighting to highlight the beauty of the basin and create a more relaxing and comfortable atmosphere.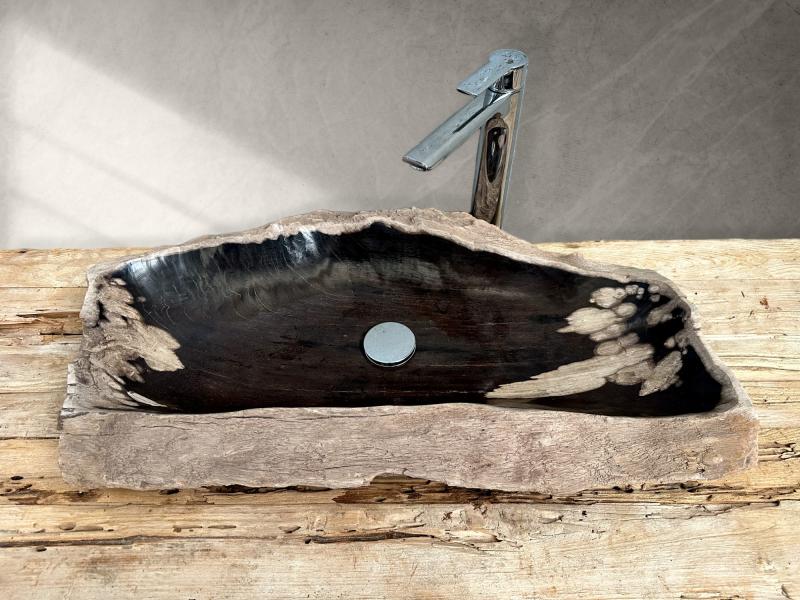 You might also like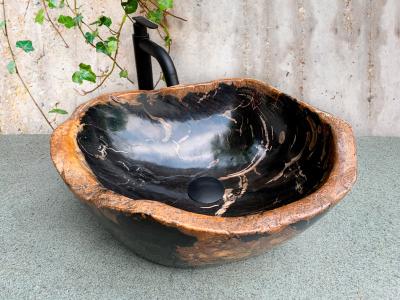 Height:
20 cm
Width:
45 cm
Depth:
36 cm
Height:
7 cm
Width:
112 cm
Depth:
72-50 cm
Height:
14 cm
Width:
62 cm
Depth:
38 cm
keyboard_arrow_up