 
STONE SINK MONET
Discover the uniqueness of our washbasin, carved from exquisite petrified wood from a region where the colours are exceptional, and this wood is known as "Panka Wanka". 
Its polished interior is smooth to the touch, while the exterior retains the authenticity and stunning natural hues of petrified wood. 
Height 20 cm x Width 55 cm x Depth 37 cm

EXCLUSIVE PIECES
ARTISAN PRODUCTS
REAL PHOTOGRAPHS

PERSONALIZED ATTENTION
Product Details
Data sheet
Weight in kilos

52

Persons needed to transport

2 people

Delivery

Street delivery

Materials

Petrified wood

Width

55

Depth

37

Height

20
---
Description
Explore nature's true masterpiece in our petrified wood washbasin. This wood, known for its unique and exceptional colours, has been carefully selected to create an incomparable washbasin. Inside, the polished interior reveals white tones, a rarity in the world of petrified wood, adding a touch of elegance to your bathroom.
The exterior of our washbasin is a wild and spectacular marvel, connecting you with pure natural beauty. Petrified wood is tough, but also delicate. To maintain its splendour, we recommend using gentle products to preserve its appearance and durability.
A washbasin like this is more than just a functional piece; it is a work of art in itself. Its presence in your bathroom will transform the décor, infusing a touch of nature's majesty into your personal space. Discover the beauty and connection to the earth in every detail of our petrified wood washbasin.
You might also like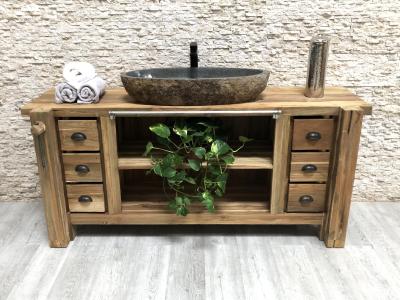 Height:
80 cm
Width:
180 cm
Depth:
50 cm
Height:
75 cm
Width:
150 cm
Depth:
50 cm
Height:
14 cm
Width:
46 cm
Depth:
40 cm
keyboard_arrow_up