 
BIG RECYCLED WOODEN MIRROR

Mirror made with old and recycled teak wood

Width 120cm x Bottom 5cm x High 200cm

EXCLUSIVE PIECES
ARTISAN PRODUCTS
REAL PHOTOGRAPHS

PERSONALIZED ATTENTION
Product Details
Data sheet
Weight in kilos

50Kg

Persons needed to transport

2 people

Delivery

Street delivery

Elevator

Does not fit in the elevator

Materials

Teak

Width

120

Depth

5

Height

200
---
Description
The truth is that when we want to find these kind of mirrors, it is difficult to find them. Here we bring you ...


Old teak mirrors recycled, very common in countries like Indonesia. The aged appearance of this type of wood makes it very appreciated in the field of high decoration.


We have different sizes to adapt to any space and enhance its elegance.
You might also like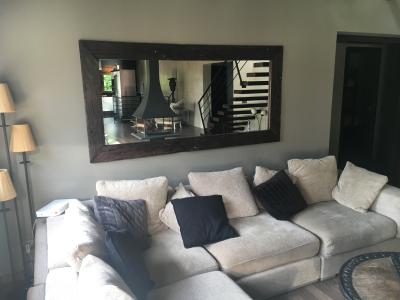 Height:
200 cm
Width:
100 cm
Depth:
5 cm
Height:
200 cm
Width:
100 cm
Depth:
3 cm
RESERVED
Height:
100 cm
Width:
180 cm
Depth:
4 cm
keyboard_arrow_up