 
PRETRIFIED WOOD WASHBASIN MALAWI
Natural stone sink made of fossilized wood.
Piece from a trunk with an age of thousands of years.
The combination of its texture and color is simply spectacular.
Nature transformed into art for your bathroom.
Height 14 cm x width 45 cm x depth 40 cm

EXCLUSIVE PIECES
ARTISAN PRODUCTS
REAL PHOTOGRAPHS

PERSONALIZED ATTENTION
Product Details
Data sheet
Weight in kilos

25

Persons needed to transport

2 people

Delivery

Street delivery

Materials

Petrified wood

Width

45

Depth

40

Height

14
---
Description
Discover the essence of luxury and authenticity with our uniquely designed washbasin, meticulously crafted from petrified wood. Every detail of this piece has been carefully designed to elevate your space and add a touch of unparalleled elegance.
The interior of the basin reveals the majesty of petrified wood in a deep black tone, impeccably polished to a shine that uniquely captures the light. The geological history of the petrified wood is manifested in its exterior, where the fusion between the fossilised trunk in beige and matt tones and the polished areas creates a harmonious and striking contrast.
Ease of maintenance is combined with lasting beauty. Petrified wood is known for its resilience, ensuring that this washbasin retains its splendour with minimal care. Every time you approach it, you will experience the perfect synthesis between transformed nature and the creativity of human design.
Maintain its long-lasting shine: Avoid harsh products, opt for neutral cleaners.
Enrich your space with this unique piece that is not only a functional washbasin, but also a captivating work of art. 
You might also like
Height:
15 cm
Width:
58 cm
Depth:
52 cm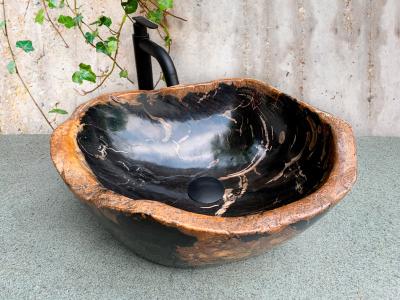 Height:
20 cm
Width:
45 cm
Depth:
36 cm
Height:
14 cm
Width:
62 cm
Depth:
38 cm
keyboard_arrow_up