 
PETRIFIED WOOD SINK MARK
Stone sink made entirely from petrified wood, combining all-natural shades of sandy beige and black.
Its interior has been polished to give it a smooth and elegant finish, while the exterior has a wild look with the natural cracks of the fossilised tree.
Height 14 cm x width 42 cm x depth 32 cm
Standard drainage hole.

EXCLUSIVE PIECES
ARTISAN PRODUCTS
REAL PHOTOGRAPHS

PERSONALIZED ATTENTION
Product Details
Data sheet
Weight in kilos

18.5

Persons needed to transport

2 people

Delivery

Street delivery

Materials

Petrified wood

Width

42

Depth

32

Height

14
---
Description
This petrified wood washbasin is a unique and surprising piece, combining natural shades of beige, black and sand in its design. The petrified wood gives it a natural texture and appearance, which makes each washbasin unique. The washbasin can be easily cleaned with mild soap and water, and to maintain its natural look it is recommended to apply a petrified wood sealer periodically.
This basin is a stunning decorative element in any bathroom, and can be combined with a variety of decorative styles, such as rustic, modern or natural. It can be placed on a wooden or metal base to enhance its natural beauty and provide additional storage space. 
All in all, this petrified wood basin is a unique piece that will add a natural and rustic touch to any bathroom.
You might also like
Height:
18 cm
Width:
74 cm
Depth:
57 cm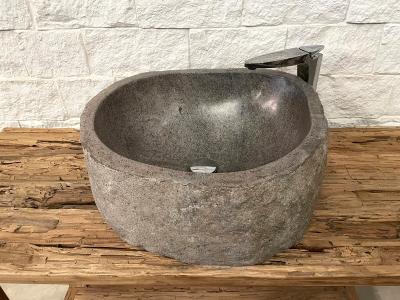 Height:
20 cm
Width:
51 cm
Depth:
46 cm
Height:
80 cm
Width:
150 cm
Depth:
50 cm
keyboard_arrow_up